free access
Download your next resource
Get access to a library of guides and case studies on advertising, marketing, and business topics. Keep up with the latest trends and developments and broaden your knowledge with the help of our advertising resources.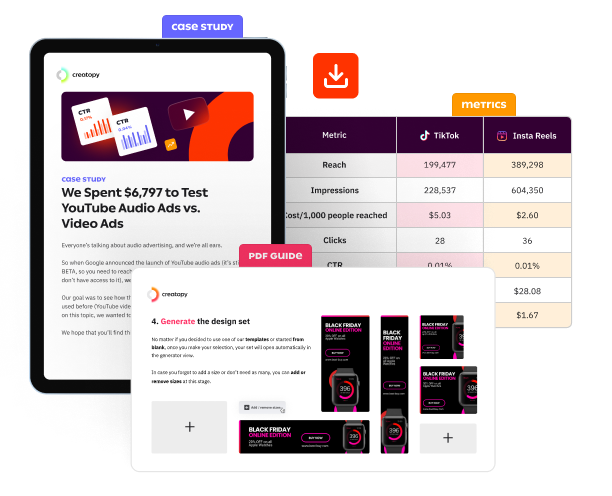 Industry Report
The State of Digital Advertising in 2023
We surveyed 200 PPC specialists from different industries and business sizes to see what they had to say about the state of digital advertising in 2023. Check out our key insights on advertiser sentiment, budgeting, and channel preferences!
case study
Case Study: YouTube Shorts Takes Over the Advertising Game
Discover what you can do to leverage the power of YouTube Shorts and find out more about the benefits of using Instagram Reels, TikTok, and Pinterest Idea ads. Just fill out the form below and download the full case study.
case study
10 Consumer Behavior Predictions for the 2022 Holidays
What will inspire consumers to buy in the upcoming festive season, and how much are they willing to spend? Get free access to our survey-based case study and discover what holiday shopping will be like this year.
case study
TikTok ads vs. Instagram Reels ads: experiment 2.0
Find out which of the two ad types performs better when using more native ad content. Get free access to the case study and see how the results compare to those from our previous study on the same topic.
free download
Whitepaper: What clicks with Gen Z
The way Gen Z relates to the online world and social media is different than other generations. That's why we surveyed over 1,100 Gen Zers to find out the best way to approach the world's youngest consumers.
design generator
Design multiple ads in one go
Learn how Creatopy's Design Generator could help you save time by generating and editing multiple sizes simultaneously. Make the most of design automation.
case study
YouTube Audio Ads vs. Video Ads
We spent $6,797 to test YouTube audio ads vs. video ads. Check how the two compare and contrast in terms of their performance.
case study
TikTok ads vs. Instagram Reels ads
Discover the findings of an experiment testing the performance of TikTok video ads against Instagram Reels with the same ad spend.
case study
10 consumer trends that will define 2022
Purchasing habits change year after year, so we wanted to know what we can expect in 2022. To find out, we asked 1,139 U.S. consumer shoppers a few questions, which helped us identify ten key trends. Learn all about them.
case study
Video advertising on Pinterest
Three hypotheses, one experiment, a budget of $3,000, and one month to spend it. Here's what we learned about Pinterest video advertising.
case study
Pinterest static ads vs. video ads: which performed best?
Pinterest has a large number of active users, but it does not receive as much attention as other social media platforms. We decided to conduct our own experiment for a month to see what we could discover.
Let's hear from you
Let's build more knowledge together
Get in touch with us if you have suggestions for other case studies, guides, and other advertising resources.