9
minutes read
Pinterest is getting more and more popular every year! If you want to drive more traffic and sales to your website, you should definitely consider Pinterest Ads!
With over 175 million monthly active users this year, Pinterest stepped into the big game as the 3rd largest social network, but, as you'll see below, it has a few little-known tricks up its sleeve.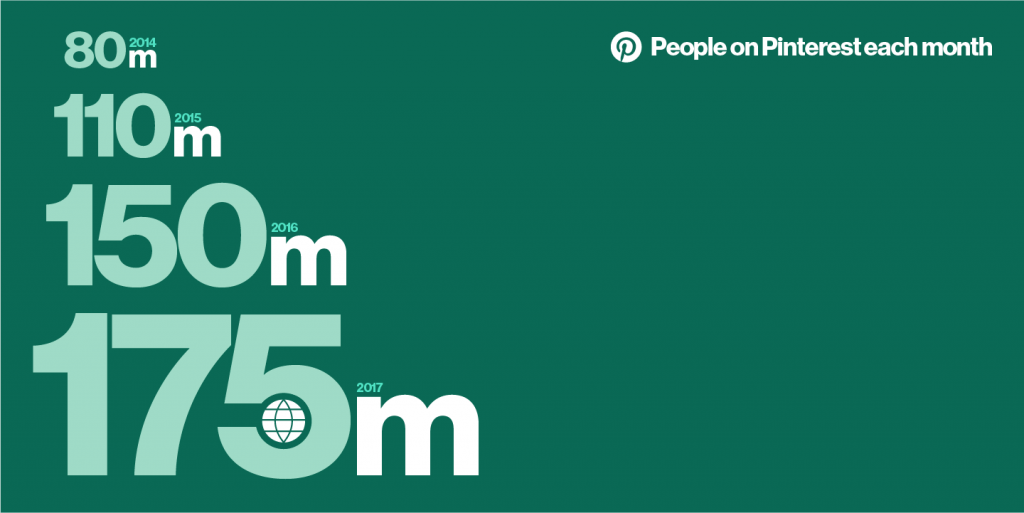 Pinterest started back in 2010 by only showing organic results in its feed, and in 2014 introduced the new ad platform that got marketers so excited. Since then, Pinterest advertising became more and more popular, numerous brands reported amazing results!
At this point, you might be wondering if you should be using Pinterest Ads in your marketing strategy… If you never used the network before, you might be tricked into thinking that Pinterest is only for women. Actually, an amazing 40% of new Pinterest signups are men, so it's not just for make-up and wedding brands.
If you are looking for advice on how to use Pinterest for marketing, look no further, we have it all covered for you! Read on to find out why Pinterest Ads are worth your money and time!
We covered 5 reasons why you should use Pinterest Ads:
Increase Conversions
Generate Demand
Drive traffic (and lots of it)
Engage with users
Promote evergreen content
If you're a newbie, don't worry, Pinterest is quite easy to use and has a great analytics tool to guide you along the path of optimizing your Pinterest marketing strategy! The first thing you have to do to start using Pinterest for business is converting to a business account; here's a step by step guide on how to do that.
After setting up your business account, you can start creating Pinterest Ads. You can create 5 types of ad campaigns on Pinterest:
Awareness
Engagement
Web traffic
Promoted App Pins
Promoted Video Pins.
You can use each one as their names show since they are optimized to bring your pins to the right audience so you can get the desired results. To determine what's the most effective way to promote your business, you can always run split tests to your Pinterest promoted pins to see what works best.
Still not convinced? Here's our list of 5 reasons why you should be using Pinterest Ads; we covered some useful resources on what types of campaigns can get the best results.
1. Pinterest ads increase conversions
Data on Pinterest users behavior shows they have higher engagement and purchase intent, that's why you should consider using Pinterest Marketing if you work with an online store and you want to increase your conversions.
It seems that the visual nature of the site gets people in a shopping mood, driving much more purchase intent decisions than any other social network. In fact, 87% of pinners have purchased something they've seen on the site and 93% have used Pinterest to plan purchases.
With these numbers, selling on Pinterest seems like a piece of cake, but here's a catch: if you don't want to have your pins ignored, you have to find out what kind of content works for you! Do some research, see what works in your niche, and always check your organic results, before you start promoting pins.
If you want to increase your conversions, one great and easy way to do that is to use traffic campaigns to promote your pins. This way your Pinterest ads will be optimized to get you more traffic, thus more sales.
To make sure you can precisely measure the results and see what works better, you can track what people do on your site after they leave Pinterest by setting up Pinterest conversion tags.
It's really easy to set up a traffic campaign from your profile, this is how you can do it: just follow this
Pick a Pin to promote
Update your Pin info if needed
Add a budget
Decide the timing of your Pinterest campaign
Add Keywords for targeting
Promote the Pin
If you need more details on the topic, just follow the advice here.
2. Pinterest ads Generate Demand
Pinterest is a great social network for demand generation. An amazing 97% of Pinterest's search queries in Pinterest don't mention a specific brand, which means its users are in active discovery mode. They're open to finding new brands to explore and eventually purchase from so they could be discovering yours.
Pinterest users are 47% more likely to be introduced to new brands than users on other social platforms, a great advantage for new brands or startups that want to be discovered.
Awareness campaigns are great to generate demand for your product or brand, especially if you have a small business, but you sell visually appealing products. With awareness campaigns, you pay a cost per 1000 impressions (people that see your ad), and you can choose how many times users see your posts.
In August 2017, Pinterest introduced promoted video pins which are another great way to boost your brand awareness. Here's why: on other Social Media Platforms, video content from brands is interrupting updates from friends or family. On Pinterest, however, users say they actually enjoy branded content, and especially videos.
Here are some tips and tricks on what kind of videos to create for Pinterest and how to get the best engagement from your video ads.
Hook Viewers: as in most cases with video content, you have to hook the viewer from the very first seconds.
Use educational content: "how to" or storytelling videos are among the best performing ones
Choose the right format: same as for images, vertical (19/16) or square format videos work best
3. Pinterest Ads drive traffic
If used right, Pinterest can become one of your top social referrals in analytics. There are over 2 billion monthly searches on Pinterest, and with Pinterest Ads, you can now target them!
Since Pinterest is essentially visual, it's important to remember you should always create and pin visually appealing and relevant content.
"You may offer the best product, article, or service in the world, but if you fail to take the time to create quality, eye-catching visuals,
Pinners will scroll on by, and your
competitors will cash in."
Tina Gammon, Pin The Pretty Things
You can find out what works best by simply browsing it or hitting a few searches, but if you don't know where to start, just be sure to follow these Pinterest best practices:
Use vertical pins
Use your brands' fonts and colors
Keep lettering and details to a minimum
Photos without faces usually do better
Keep the background to a minimum
Use Pinterest Quotes or inspirational photos
How to design Pinterest pins:
1. Go to www.creatopy.com and create a free account
2. Choose one of our graphic design templates for Pinterest
3. Upload your own photos or choose from over 1 million stock images
4. Add filters, brand elements, and text
5. Save, then upload to Pinterest!
4. Pinterest ads increase brand engagement
With engagement rates of 2-5%, promoted pins exceed industry benchmarks, since people are used to saving the Pins they're considering for their future plans. And there's more great news: Pinterest says brands also get an average of 30% free engagement when they conduct promoted pin campaigns. For example, if someone shares your promoted pin and another user clicks on it, that click is free for you.
To get the best engagement for your pins, just promote your best-performing organic pins and watch the re-pins go sky-high! With engagement ad campaigns, you only get charged per engagement actions such as a repin or click.
"On Pinterest, you can get a huge number of repins
for as low as $5."
Engagement Campaigns are usually cheaper than cost per click or traffic campaigns, but they also drive fewer clicks or conversions. Thus they can be ideal for bigger brands that already have a fanbase, but are looking to remain top of mind.
5. Pinterest ads can help you promote your evergreen content
In order to have constant traffic on your website without investing a lot of time every single day, you need to learn how to create evergreen content.
The trick is to find those topics that people are constantly searching for, and that are not trend related, so they don't become outdated. It only makes sense to promote that kind of content on Pinterest, since Boards are a great way to store content without losing it on a timeline.
Due to its nature, Pinterest is great for creating and promoting evergreen content, the kind that drives you traffic on long-term, as opposed to other social networks such as Facebook, Snapchat or Instagram, that are more time-related.
Evergreen content is ideal here and it can grow organically because Pinterest is basically a social network that works like a search engine, so it's combining the best of two worlds. Its heart is the algorithm called Smart Feed, which decides how we see pins in our feed and how the Pinterest Search works.
As any algorithm, the Pinterest Smart Feed constantly tweaks and changes, but here are some of the things it considers:
Number of repins
Domain quality
Topical relevance
An even better way to showcase your evergreen content is with ads on Pinterest.
If a promoted pin already gained a significant number of repins, it continues to drive organic traffic if it's a searched term. This means paid repins keep generating impressions, repins, clicks after the campaign ends. Actually, most advertisers see about 5% more impressions the month after a Pinterest ads campaign has ended.
Before starting any Pinterest campaign, you can use the search as a keyword research tool. Just type what you are searching for and hit enter, then see the suggestions for what keywords are searched in the results.
Pinterest Advertising Examples
Pinterest provides lots of success stories to inspire your next Pinterest ad campaign, you can check them out and see what may work for your brand. Take a glance at some of our favorite Pinterest ads examples to get your creative ideas flowing!
As you can see in the examples above, finding a way of showcasing your product in an unexpected manner, that ideally fits the network's format and what users love to see, is a winning recipe for e-commerce businesses. This way your products can actually be seen exactly by those who were searching for them.
Sometimes simply showing how your product works or how it's used can be a great idea, like in this ad for a bottle opener.
For content websites, adding value for the user is always a great idea: educational and DIY content is one of the best ways to promote your evergreen content and make sure your users come back for more! Add recipes, step by step guides, or any form of educational content.
Pinterest Design Templates
We created some free Pinterest Templates to help you find your inspiration and create the best Promoted Pins. Whether you are looking for a beauty design template, e-commerce promotion ideas, or templates to showcase your recipes, you'll find them here.
Take a look at some of the examples, then go ahead and edit them your text and images. It's easy!
Here are some amazing and colorful sports templates you could use to promote fitness, yoga, or pilates classes on Pinterest!
Cooking is also very trendy on Pinterest since many users pin recipes to try on later. Give these templates a try and create your own creative Pinterest Recipes.
We also covered the business part, here is a template for a Pinterest design you will love!
And, since we're on Pinterest, we couldn't ignore the Fashion industry, here are some of the best design templates for Fashion online stores.
If your audience spends a lot of time on Pinterest, you are losing if you choose to ignore this gold mine. Spend some time in the network, get creative, test to see what works for you; and when you find it, don't be afraid to invest. It can pay off big time!
If we convinced you to give it a try, let us know how Pinterest advertising worked for you in the comments section below.