6
minutes read
Illustrations matter big time. Yes, other factors are important too. Your content may be of premium quality. Your website can be lightning-fast and SEO-optimized. But let's face it – without relevant visual tools on your website, you are not likely to build a solid online presence.
That is why in this post we have decided to shed light on how images contribute to the growth of your website's performance. So, keep on reading to learn about the key reasons to use images on a website and find out how images influence web page visitors.
In other words, you will find answers to two questions: why and how to use images on a website to ensure the best user experience for your prospective web page visitors.
Why Use Images on a Website
For starters, images make your content more comprehensive. Just by looking at a background image in WordPress themes, you can decide within seconds whether these themes are worthy of your attention, can't you? And this is exactly what your prospective readers or clients will do when finding your website for the first time. That is why try not to disappoint your online audience and provide appropriate images.
By doing so, you are actually showing respect to your web page visitors and demonstrate that you value your clients' time. There is one more argument that supports the idea that images are essential when it comes to analyzing information. There are no humans with inborn reading skills.
As opposed to reading, seeing is a gift from mother nature that most humans are free to use for assessing information. As William S. Burroughs elegantly puts it "Sometimes one picture is equal to 30 pages…" There is a need to doubt that, isn't it?
What is more, a nice image is always catchy. According to BlueCorona, more than 30% of Internet users switch devices when they find the imagery on a website unappealing. What is more, according to the same source, about 40% of prospective online visitors stop engaging with a website that does not look inviting. The key takeaway from these facts is that images work as attention-grabbers.
When applied properly, they make your readers or buyers stay at your website longer. And as we all know, the longer session duration leads to a growing number of page views! To ensure all this, choose imagery that is niche-oriented.
For instance, in the Monstroid2 – Multipurpose WordPress Theme, you can find 9+ pre-build (and most importantly!) niche-oriented designs. Each unique and aimed at a specific social group, the designs demonstrate the power of professional imagery to the fullest.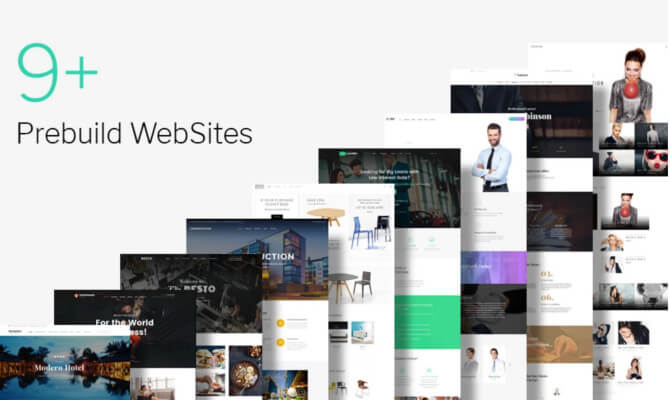 One more reason to use a professional illustration on your website is to look reliable. The choice of illustrations can tell your audience a lot about your attitude to the website you own. In other words, visual tools like charts, maps, graphs, and infographics help you to win credibility in the eyes of your audience.
That is why when choosing WordPress templates for graphic designers, make sure that the template you are going to use for your next web project contains diverse visual tools.
If you present the statistics data as a 500-word paragraph, the chances are that most of your readers will not read till the end of it. But when your prospective client stumbles upon the same data wrapped as an eye-catching chart, (s)he would perceive that data better and quicker.
In addition, images make your content more memorable. It has been 20 years since it was scientifically proven that humans remember text worse than images. Published in the Proceedings of the National Academy of Sciences of the USA back in 1998, this article demonstrates that the human brain reacts to images (in contrast to a text).
In short, people can recognize up to 90% out of 2000 images even a week after they see those images for the first time.
For graphic designers, it means that the thorough choice of images is the smartest marketing investment in the long run. Once remembered, a professional image can guarantee a higher conversion rate. Make no mistake – a professional image is a reliable tool to turn newcomers into your loyal customers within the shortest terms.
What is more, illustrations are the best tool to make your content personal. Websites are launched at an unprecedented speed these days. In order not to get lost in this online world, it makes sense to create a website that appeals to your audience on a deeply personal level.
The easiest way to do it is to pack your online project with breath-taking images. In other words, if you want to increase user engagement on your website, use imagery that can stimulate the senses. For instance, in this Coffee Shop – Cafe Bar Pub Restaurant WordPress Theme, you can see how the image of a coffee cup is aimed at evoking the smell of coffee and its rich texture.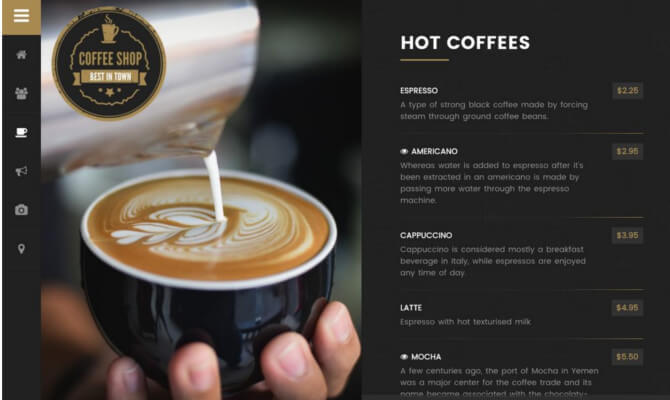 Finally, the smart use of illustrations helps you to create an emotional connection with your online audience. One of the most obvious reasons to use imagery on a website is to evoke emotions. Believe it or not, illustrations bind people together much quicker than texts. This is especially important for websites that are aimed at specific communities or social groups.
How to Use Images in Web Design
Make the best of photos of people. The human brain is designed to focus on humans. That is why every time you post an article, pick a photo with a person (if applicable to your content). This way you will ensure that your online audience spends a bit more time/money on your website than planned. The Art of Sculpting is a great example of how a hero image can send a powerful message to all of us who are interested in keeping fit in 2018.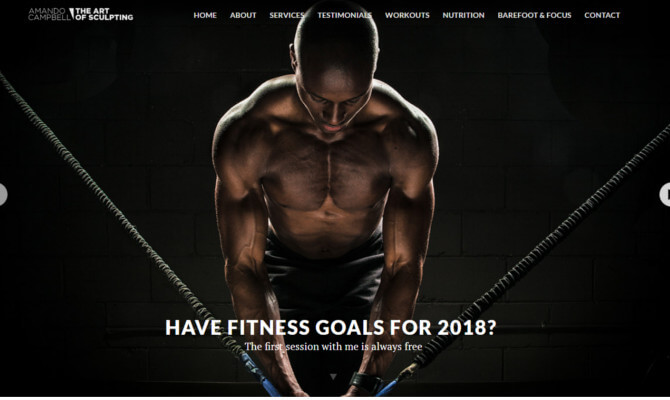 2. Care about the responsivity of your illustrations. According to HackerNoon, an average American adult person spent about three (!) hours a day in 2017 with a smartphone in their hands. That is why it is crucially important that all your graphic illustrations look good on modern devices. As more people choose to browse the Internet via their mobiles and this tendency is not going away anytime soon, it is advisable to offer your prospective clients the best visual quality. How do you do that? You trim your website with responsive illustrations.
3. Use relevant images. No matter how creative you personally are or what innovative products/services you offer, your website has to look user-friendly. The easiest way to accomplish that is to attract your online audience with the universally recognizable images that correlate with the title of your page/post/article. A nice example of how recognizable imagery can co-work with your content is the Kick My Habits, a website that demonstrates the real cost of our not so healthy life choices.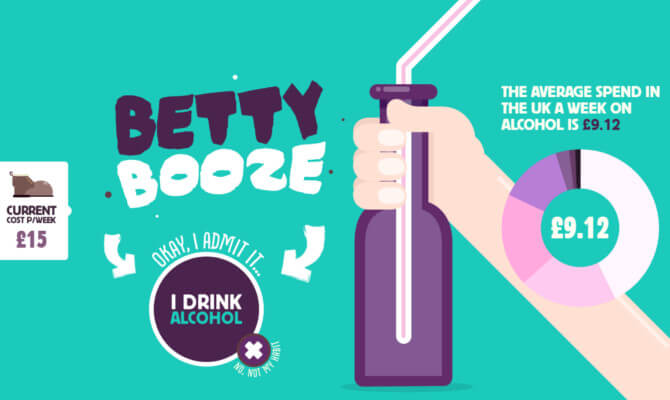 4. Choose illustrations that match the color palette of your website. Do your best to see your website as a whole. Yes, every website page or blog post you publish online may demand a specific type of imagery. Yes, it can be practically impossible to find the illustrations that contain the same hues as your navigation bar. But it is worth a try to strike the balance between the dominant colors on your website and the illustrations you use.
Color psychology is the real thing, as we all know. GeckoBoard, a website that promotes building TV dashboards, demonstrates how illustrations can complement the dominant colors in web design. Just have a look at how light green is used several times to make the web page look consistent and inviting.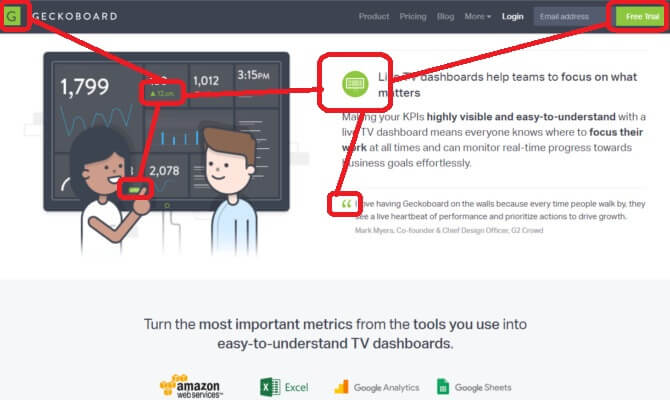 Key Takeaways: How Images Influence Web Page Visitors
As you can see, there are many ways how images predetermine the success of your online projects. Let's recap once again how illustrations influence web page visitors. Images can:
demonstrate that you value your clients' time;
make your readers or buyers stay at your website longer;
win the credibility in the eyes of your audience;
guarantee the higher conversion rate;
increase user engagement on your website;
address specific communities and social groups.
So, next time you pick a photo for your HomePage or a blog post, take your time, and choose your illustrations wisely!
Article written by our friends at Template Monster.