12
minutes read
We'll soon enter the most wonderful time of the year. And the holiday shopping season.
Meanwhile, everyone's topping up their wallets while retailers prepare to roll out their deals. During the 2023 holiday season, consumers are estimated to spend 7% more money than last year.
That's the reason why retailers are increasing advertising budgets during this period. According to a Sensor Tower study, retail ad spend reaches its peak during the holiday shopping season, with a special focus on December holidays.
For marketers, this is the busiest time of the year, and the chance to increase sales and boost revenues through appealing multichannel holiday campaigns. No pressure, right?
But we're here to lend you a hand.
Here's one key aspect to keep in mind: online shopping has become the preferred method for purchasing gifts, rather than going to physical stores. Thus, digital advertising should be your top priority.
To help you plan your holiday marketing campaign, we've compiled this comprehensive holiday marketing guide.
Moreover, to support you in getting your digital campaign up and ready for launch fast, we'd like to introduce you to Creatopy, our AI-driven creative automation platform. Find out how you can go from concept to live campaign in a matter of hours, by generating sets of banner ads using our AI-powered Banner Generator.
---
Table of contents:
---
Use these holiday marketing tips to plan and create an effective holiday campaign.
A. Holiday Shopping Trends 2023
Never plan your campaign on assumptions. Before proceeding, it's important to research the main consumer behavior patterns regarding the upcoming holiday season.
1. Consumers start their holiday shopping earlier this year
Did you know that 50% of consumers expect to start holiday shopping before November? The holiday shopping season now begins in mid-October because most major retailers are getting their offers out earlier than in the last years. The start of the holiday shopping season in October is already accepted as the new normal.
2. People love discounts
Discounts are still top motivators when it comes to purchasing. When asked what will motivate them to buy, 65% of people pointed to discounts. This means that you need to pay a special focus on how you price your products.
3. Consumers are expected to spend big
Retail sales are expected to increase by 7% during the 2023 holiday season, with 20% of sales coming from ecommerce. Millennials, who are in their peak earning years, are a top buying force, with GenZ coming in close.
4. Physical stores are making a comeback
Brick-and-mortar sales are expected to go back to the pre-pandemic norms. People also expect a seamless experience between digital and physical outlets.
B. Holiday Marketing Strategies You Need to Adopt in 2023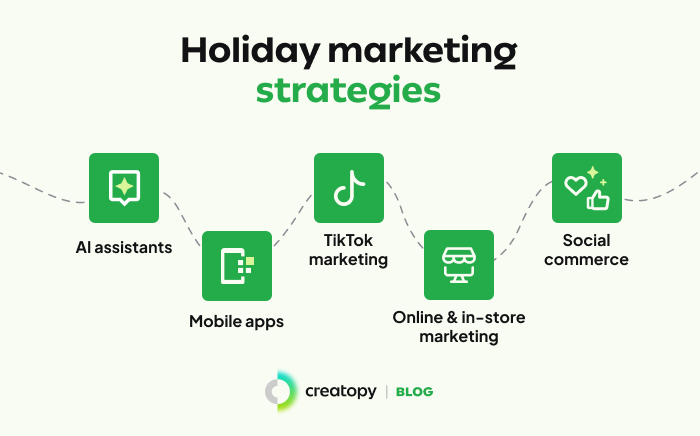 What defined last year's shopping season may have become outdated in 2023. Let's not forget that AI's rise has completely changed the game. Also, TikTok's latest features take social commerce to a whole new level.
1. AI assistants
Integrate AI live chatbots on your website and social media pages, and make sure you take in all inquiries during the holiday season. AI assistants provide instant personalized customer care and help drive leads through the sales funnel, which translates to increased sales.
For example, Lego increased their online sales during the Christmas season with the help of Ralph, the friendly bot. The AI-powered assistant offered customers personalized guidance and support in finding the best gift for their dear ones.
2. Incentivize mobile app downloads
You need to do this before the holiday shopping season kicks in so customers already have the app installed by the time your campaigns are running. Offer exclusive in-app benefits to increase downloads and ensure you encourage users to place orders directly from the app.
3. Get on TikTok
Social commerce is expected to grow 29.8% this year, and the main reason for that is TikTok marketing.
Use TikTok's amazing shopping formats to showcase and sell your products to the TikTok community. You can sell your products through LIVE videos, by pinning them to the bottom of the video, shoppable videos, or on your channel's Product Showcase section.
4. Balance online and in-store holiday advertising
The post-pandemic shopping trends show that people are getting out of their houses and enjoy buying their desired items in-store. So, don't focus on your online store only.
Surprise shoppers with some exciting in-store promotions, on-the-shelf decorations, or festive packaging. Find ways to offer a memorable experience.
5. Integrate social commerce
36% of American shoppers used social media for gift buying in 2022. So, if you want to increase sales, you need to include social media commerce in your holiday campaign.
Most social platforms offer some kind of shopping integration. For example, Facebook Shop, Instagram Shopping, Pinterest Buyable Pins, TikTok Shopping, Shoppable Snapchat Ads, Twitter Buy Button, and WhatsApp Business.
A Statista report found that Facebook is the leading social network for shopping in the US. The success is all due to Facebook Shops, a native ecommerce solution where small and middle-sized businesses can showcase and sell their products.
C. When Should I Start Holiday Marketing?
Officially, the holiday shopping season starts festively with Halloween, continues with a bang when Black Friday and Cyber Monday come, and ends with some New Year's Eve shopping. However, you should start planning your holiday campaign early (as early as the end of summer) and launch it by mid-October.
Last year, most major retailers rolled out Black Friday and Cyber Monday offers as early as October, which set the new start for the holiday shopping season.
In fact, a Google survey revealed that "as of mid-October, holiday shoppers globally had on average 21% of their holiday shopping complete."
So, get ready to launch your holiday campaign by mid-October and leverage that early shopping frenzy to your advantage.
D. How to Attract Customers During the Holiday Season
1. Know your target audience
You may be tempted to allocate more resources to the creative process to achieve your holiday sales goals. But, the truth is, studying and defining your target audience is key to a successful marketing campaign. So, start by identifying the groups of people you want to reach this holiday season. Then, think of the channels you can use to reach each group.
The best mix of marketing channels would ideally include OOH ads, point-of-sale signaling, and digital ads (this includes everything from social media to display ads).
For example, you can attract customers visiting brick-and-mortar locations by signaling holiday discounts on the shelves, but you can also direct people to your online store through display ads.
2. Leverage digital advertising to bring in new customers
Digital advertising offers an incredible advantage over non-digital channels, allowing you to target specific groups of potential customers. Most digital advertising platforms enable you to tap into new potential groups of customers using granular audience segmentation. You can target users based on:
Demographic data;

Interests, hobbies, and habits;

Whether they are actively searching or researching a product or category of products you offer;

Browsing history, meaning you can show your ads to people who visited similar websites, apps, and even physical locations;

Specific page topics.
For example, Google Display Network targeting allows marketers to use multiple target groups. The more audience segments you use in a campaign, the larger the reach and chances for people to click on your ads and make a purchase.
3. Use remarketing to retarget past customers
Another opportunity that digital marketing offers is remarketing. With remarketing ads, you can reach people who have previously bought something from your online store or have interacted with your business one way or another (maybe they visited your website or landing page).
Retargeting ads have a 400% increase in engagement rates. Also, retargeted users are 70% more likely to buy, because they are served relevant ads of products that actually interest them.
So, leverage the power of remarketing to reconnect with your past customers and reengage them with your holiday offers.
E. How to Create a Holiday Marketing Campaign
Let's go through the holiday season step-by-step.
1. Plan your holiday campaign calendar
57% of consumers start shopping before Thanksgiving, while 28% plan to start shopping on Black Friday or Cyber Monday. That means you need to have your holiday campaigns ready for launch by mid-October.
Another thing you should consider is engaging your audience throughout holiday peaks.
Let's break down the holiday season campaign calendar:
Halloween (October 31st)
The earliest signs of Halloween can be seen in stores starting with the end of September. Halfway through October, storefronts already display enchanted deals and offers, invoking the Halloween spirit.
It's the moment the holiday shopping season kicks in.
If you want to make the most of it, brainstorm some Halloween marketing ideas and deals and get your Halloween ads out fast.
Thanksgiving (November 23rd)
By this time, people are spending more time in the warmth of their homes with their families, planning the winter holidays. Most families reunite, sharing experiences and creating memorable moments.
For brands, it's a great opportunity to engage customers and deliver limited-time offers.
If you're looking for ideas, here's one: craft a Thanksgiving campaign that engages customers through social media, user-generated content, and email marketing.
Black Friday (November 24th)
This is where the shopping frenzy really begins.
People start making lists and hunting for deals online, even one or two days before Black Friday. So, you need to ensure your website and other outlets are working smoothly, and your Black Friday campaign is ready to launch. Make sure that:
Your ecommerce website is up-to-date and able to support high volumes of traffic;

Product pages are optimized for search engines;

The checkout flow is fast and hassle-free;

Customer support is available;

You run Black Friday campaigns on social media and display ads to drive traffic to your website;

Your staff can handle a large number of orders.
Cyber Monday (November 27)
If you're running an ecommerce business of you're in retail, Cyber Monday is another opportunity to score big.
But with so many competitors out there, you may want to consider some outstanding Cyber Monday marketing ideas like bundles, exclusive offers, or innovative gift wrapping.
Christmas Eve and Christmas Day (December 24-25)
Seasoned marketers will avoid any last-minute festive marketing actions and instead will launch their Christmas campaign right when sweater weather kicks in, which is in the beginning of December. With a sales campaign spanning well over three weeks, you have enough time to reach a considerable number of people.
A typical Christmas marketing strategy targets consumers who are interested in buying presents for their dear ones or for themselves.
Besides all of the holiday marketing tactics I've mentioned before, here are some Christmas marketing ideas you may want to consider:
Decorate all of your outlets to convey that magical Christmas spirit;

Provide branded festive gift packaging;

Include shopping cards and coupons in your offer;

Set up a

Christmas digital catalog

;

Offer giveaways, raffle prizes, and exclusive offers for loyal customers.
New Year's Eve (December 31)
And finally, plan a New Year's Eve countdown celebration with giveaways.
If you're determined to enter the new year with record sales, then launch some New Year's Eve advertisements to promote your final inventory.
Use email marketing and social media to promote your New Year's sale.
2. Set up a mix of holiday sales tactics
If your goal is to increase sales during the holiday season, make sure you use some appealing holiday promotions. Just some nice ads won't do.
Here is a list of the best sales techniques to adopt:
2.1. Promote big discounts
No matter the creative ideas you put into your holiday campaigns or the channels you use to reach potential customers, massive price cuts will still be the #1 reason for making a purchase.
Imagine that your competitors and other brands will be out there during the holiday season displaying their offers. People will be bombarded with deals and offers from all directions. There will be countless options to choose from. So, use this opportunity to impress with a huge discount.
2.2. Offer free holiday shipping
Did you know that shipping costs cause 48% of shoppers to abandon their shopping carts? Imagine the abandonment rate during the holiday season.
According to Jungle Scout's study, 80% of consumers now expect free shipping when ordering a certain amount of products. And considering shoppers are willing to spend more during the holiday season, it's the perfect time to offer free shipping. This strategy will help you increase sales and your customers' satisfaction rate.
2.3. Provide free returns to build brand loyalty
The holiday season is a great chance to attract new customers and build loyalty with existing customers. Offering free returns is one of the best ways to build memorable customer experiences and brand loyalty. More sales implies more returns, so you must be ready to manage returns fast and hassle-free and provide an excellent experience to each and every customer.
Here's a mindblowing fact: over 60% of people examine the return policy before purchasing. Does this convince you to integrate free returns into your holiday sales? The top three industries with high returns rates are clothing, automotive parts, and electronics.
2.4. Include a free gift for every purchase
Make your offer more appealing by offering a free gift for every purchase. Make sure the gift is interesting enough for the customers to desire it.
A common mistake retailers make when using this tactic is to give away unpopular products, using this opportunity to clear out their stock. But this can only lead to losing customers in the long run.
2.5. Create bundle deals
This is another way to sell more items during the holiday season. Bundles have always been popular because they have one main advantage: the total price is lower than the sum of the individual products. During the holiday shopping season, gift bundles are even more preferred. Use gift bundles to help customers relieve the pressure of choosing the right gift for their dear ones.
3. Select the best marketing channels
3.1. Online marketing
Use any marketing channel that allows you to reach customers via the internet: social media, email marketing, display ads, content marketing, and influencer marketing.
Run multichannel display ad campaigns
Display ads are the best way to drive people to your holiday sales.
Using targeted display ads campaigns, you can reach potential customers interested in your products and past customers as they browse websites, apps, and video platforms on the internet.
Creatopy can help you maximize holiday season peak performance with AI-powered creative automation. With our platform, you can create, animate, collaborate, and deliver your ad campaigns from one place.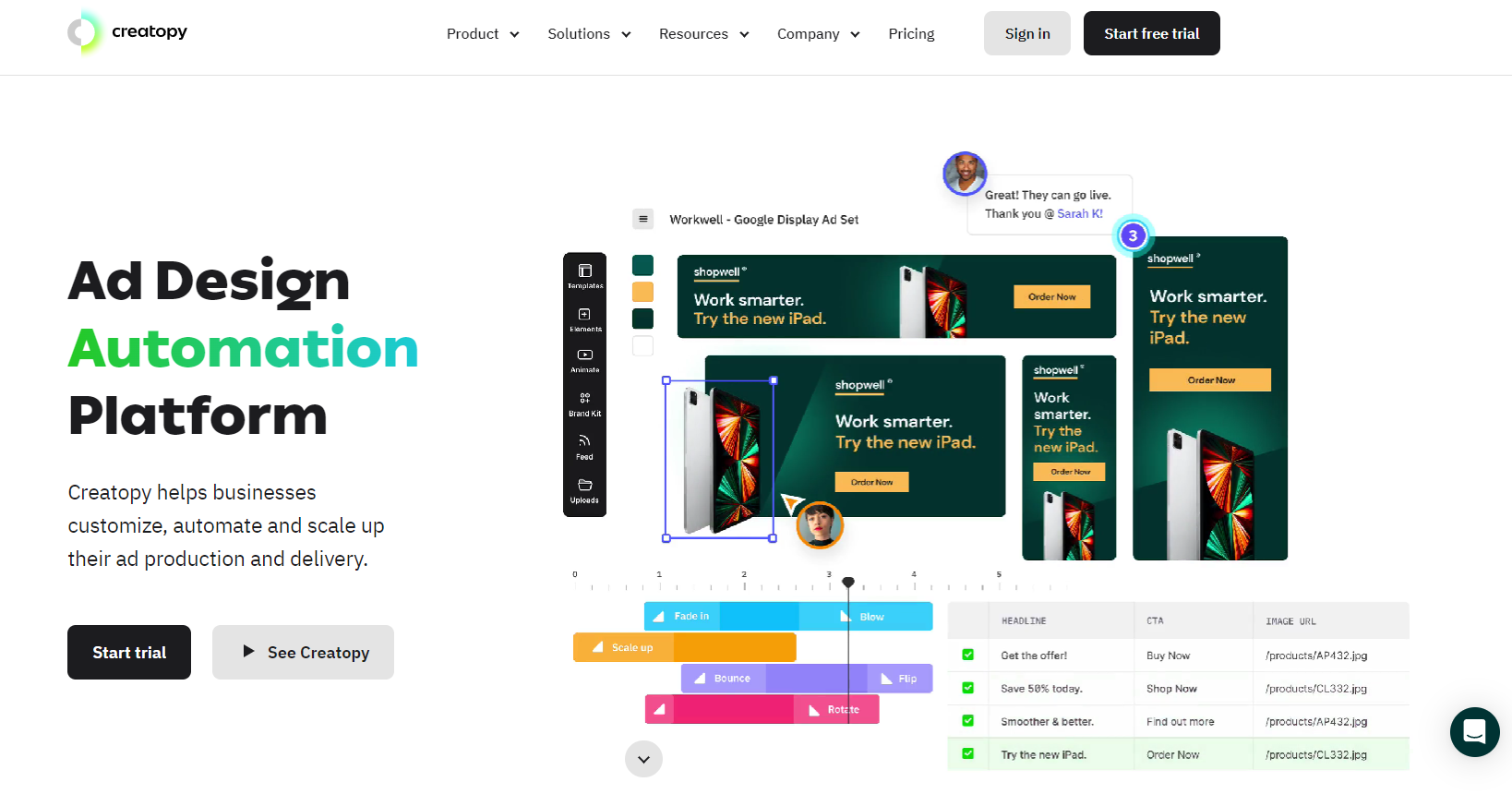 Here's how you can use our tool to create outstanding display ad campaigns for this holiday season:
Create static or animated display ads

from scratch or

using templates;

Customize your ads

using in-app high-quality stock photos, audio, and graphic elements;

Create high-converting animated banner ads

using animation effects;

Automate ad production with Creatopy's AI Banner Generator. Generate

sets of ads for all advertising platforms and social media networks in minutes;

Collaborate on designs

with your team and clients;

Deploy ad campaigns directly from Creatopy

without leaving the platform.
Create & launch your holiday display ads campaign with Creatopy.
Test Creatopy's capabilities in a 7-day free trial to see what an AI-driven creative platform can do for your business!
Run social media ads and leverage social commerce
Shoppers are expecting inspiration from social media during the holiday season. 56% of Gen Z said they look at TikTok for inspiration, and 38% of Boomers check out Facebook.
Besides making your social media pages festive and being active during the holiday season, you may want to run social media ad campaigns to drive people to your website.
For example, with Facebook ad formats like carousels or collection ads, you can showcase your whole inventory of products right on the Facebook feed.
Another way you can use social media for sales is through social commerce. Instagram Shopping, for example, offers an incredibly fast and hassle-free shopping experience without the user needing to leave their platform.
Send holiday email campaigns
Send out holiday emails to past customers offering exclusive deals and wishing them happy holidays.
Design festive emails, but keep your message to the point. Place your offers in the spotlight so people can easily spot them.
One important thing: don't send too many emails. It may come off as spammy.
Use content marketing for inspiration
Blog about your products, giving advice and context on how to use them. Ensure your blog posts are delivered to your customers via social media and email.
Blog articles are still a meaningful way to connect with your customers and increase that brand-customer bond.
Influencer marketing
Influencer recommendations can have a massive contribution to boosting sales. As a matter of fact, 46% of social media users said they bought something an influencer recommended.
When in doubt, know that the best platform to run influencer marketing campaigns is Instagram.
3.2. Offline marketing
If you're a big brand with a big budget, you can also leverage traditional advertising channels like TV, radio, and print to promote your offers.
Find some creative ideas to communicate your offers and stand out during the commercial break:
Run TV commercials all throughout the holiday season, promoting key items to capture people's attention. Use powerful calls to action to drive people in-store or to your website.

Use radio holiday adverts to reiterate your message and remind people of your offers and deals. Find innovative ways to integrate your brand name and be memorable.

Feature your ads in specialized print magazines and local newspapers. Create a printed catalog and insert it in local newspapers to showcase your products.
3.3. Point-of-sale marketing
Last but not least, offer great customer experience in-store and outrun competitors by using surprising point-of-sale techniques:
Use innovative holiday packaging;

Add surprising shelf decorations;

Engage customers with mascots;

Organize in-store raffles and giveaway generous prizes.
4. Make it all about your customers
Give the gift of giving.
Your holiday campaigns may be all about increasing sales, but shoppers are interested in how they can make their lives and their dear ones better.
More sales will also mean more inquiries, returns, and complaints. So, get ready to address all of them.
Use these customer care techniques to cater to people's needs during this hectic period:
Enhance customer support and assistance during the holiday season on your website and social media pages through live chat;

Use WhatsApp to communicate with customers so they can reach you fast and easy;

Provide support over the phone to make sure all inquiries are answered.
Key Takeaways
The holiday shopping season is around the corner. You can almost hear the buzz. So, it's time to plan your holiday marketing campaign.
Use the guidelines and holiday marketing ideas we provided you in this guide to attract new buyers, engage past customers, boost sales, and increase ROI.
Let the holiday shopping frenzy begin!