Memorable ads, happy clients
Creatopy for agencies
Create ads for your clients and enjoy a smooth design proofing process. Create high volumes of ad variations in different sizes and formats, and discover all the features you need to manage client work.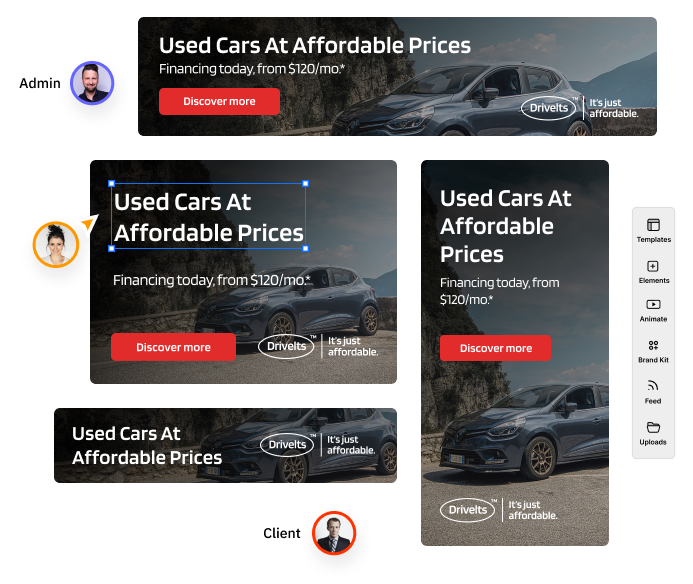 Highlights
What are the benefits?
Stay ahead of the competition by matching your ad design expertise with Creatopy's platform capabilities.
Save time through automation
Save time by scaling your ad production from one design to multiple visual variations and sizes. Get rid of those tedious tasks and deliver design projects on time.
Create ads for multiple brands
Manage multiple Brand Kits, no matter how many clients you have in your portfolio. Switch between different Brand Kits in just a few clicks and always stay on brand.
Get client-side feedback
Share designs with both your colleagues and clients. Remember that you can also share folders and review multiple designs at once through a single share link.
Make changes to live campaigns
Use an ad tag for your preferred network and make live updates to your ads without putting a whole campaign on hold. In Creatopy, this option is provided by ad serving.
Speedy customer support
If you run into any issues while using Creatopy, you can always count on our customer service and success teams. In addition, you can visit our Help Center.
Customize your collaboration options
Have control over your privacy by making comments available to your team only. Stamp your shareable page with your brand to make it recognizable by your clients. I like having our team members all in one space where we can collaborate on creative assets. It's nice we can import our own brand assets into the platform.
Eric Jackson-Sarkany, Demand Generation Strategist - D2L Design sets can save you time, while batch creation via CSV is very interesting. It's fast to design ads and post on social media. It integrates partners like Shutterstock.
Vincent Maurin, Co-founder - Panja.io The ability to create banners in different formats in the blink of an eye by changing the resolution and repositioning objects is extraordinary. Available templates are modern.
Giorgio Russo - Byte Project
Previous
Next
What Macro achieved with Creatopy's help
Agencies think of Creatopy as a good solution for their ad design and collaboration workflows. Macro, an agency of global digital marketing experts, confirms this statement in a customer case study. This case study includes Macro's challenges and goals, the solutions found in Creatopy for its demands, and ends with the outcome of using Creatopy.

Read more about how:

1. Our customer increased its ad production processes with specially designed ad automation features;

2. Macro sped up its QA and approval processes with Creatopy's collaboration features;

3. It keeps projects organized in separate workspaces and its clients' brand assets in separate folders.
Manage team dynamics
Create as many teams as you need, each with a separate workspace to keep things organized. Invite new members to join you, assign specific projects to anyone on your team, and share your work.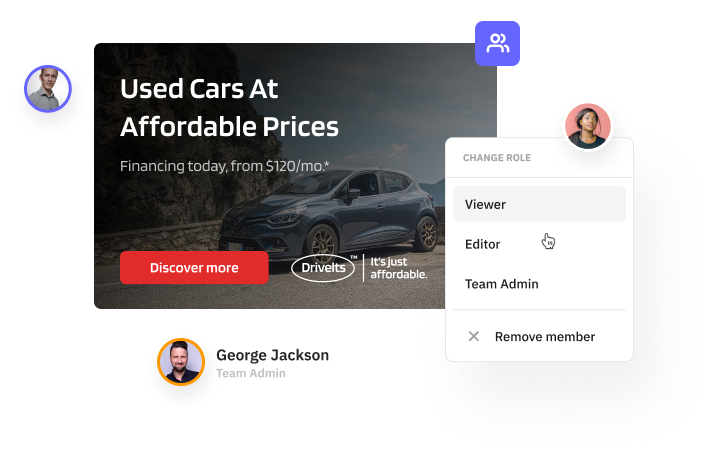 Personalize your designs
Creatopy's elements library abounds in Shutterstock images, stock video, and premium music content, illustrations, and other elements you can use to create unique rich media ads.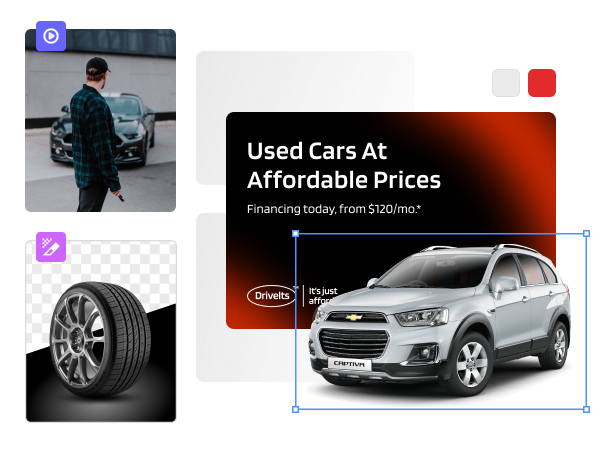 Customize animations
In Creatopy, animating ads doesn't require any coding skills whatsoever. Customize your animations as you wish with the help of the Timeline, and give a distinctive spin and motion to each design element.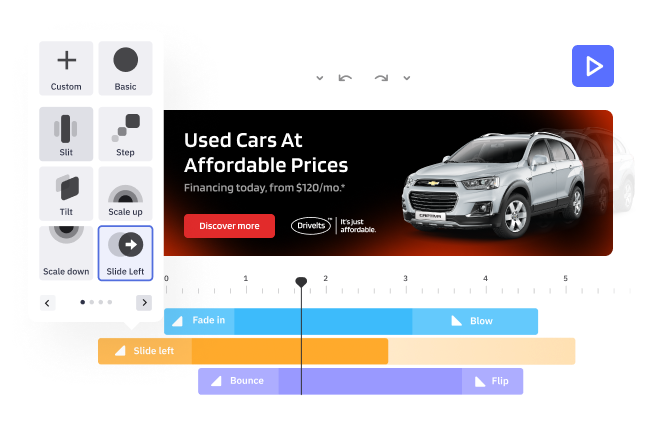 Join us
Deliver multiple design projects on time
Keep your team productive with an ad design tool that allows you to create, customize and deliver ads at scale.