explore data fed design
Ad Feed Builder:
One design, endless variations.
Instantly.

Discover Creatopy's newest automation tool, which makes ad creation faster. Generate multiple visual variations of your design by simply using a CSV file. Create large volumes of ads instantly without having to use complicated software.
automated design process
Create high volumes of ad variations
The Ad Feed Builder makes ad scaling easier and faster, so you can have plenty of time to think about your next creative campaign. Upload your CSV file, connect your data with the design, use the Row selector to navigate through your designs and download in your favorite formats.
multi-channel creation
Scale on multiple sizes simultaneously
Use the Ad Feed Builder along with Creatopy's Generator to scale your ads in the appropriate sizes for all the platforms in your media plan. Have your creatives ready in seconds and go to market faster than ever before.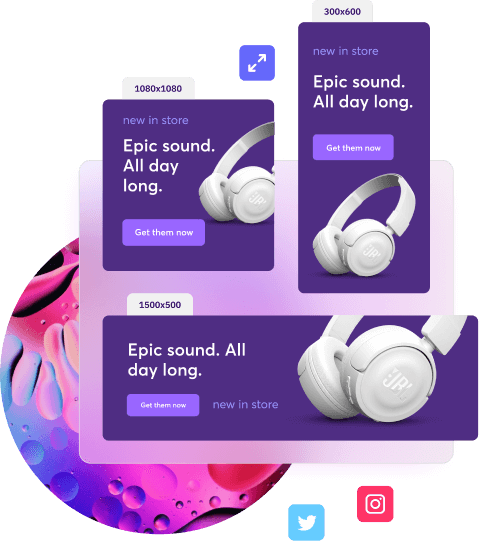 test your ideas
Validate your
design concepts
Now you can quickly prepare creatives for A/B testing. The Ad Feed Builder will facilitate the entire creative process, and thus will enable you validate your work very fast, so you can have great performing ads all the time.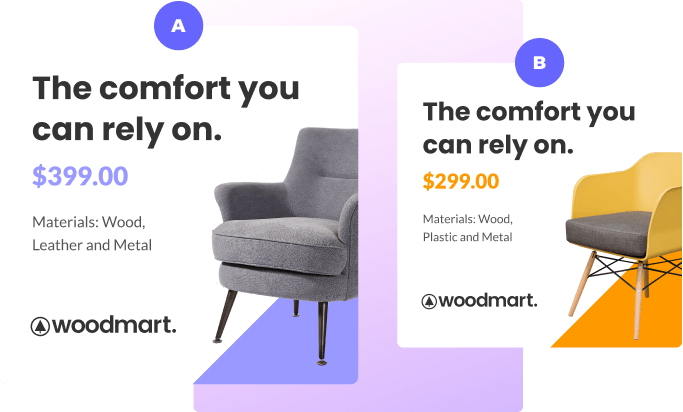 Ad Feed Builder Tutorial
Get started with the Ad Feed Builder with the help of a step by step tutorial designed to show you how this powerful tool works.
do it yourself
How to create ad variations
Pick the size and create your design

Explore the library and choose one of the presets or create a custom size. Select a template for your ad or design your ad from scratch.

Set up your feed and link the CSV

Set up you Feed by uploading a CSV file with all the relevant product detail information for your ads, or by serving it via URL.

Bind design elements to the content feed

Easily link the details in your CSV to different elements of your design, so you can feed the necessary information for creating visual variations.

Preview your variations

Use the Row selector function to see how your design generates based on the content of different rows in your data feed.

Download individually or in bulk

When you are satisfied with your project, select the files you need and download them individually or in bulk.
Creatopy: the complete ad design solution
Creatopy is easy to use and has a per seat pricing model, meaning that your plan will grant you access not only to the Ad Feed Builder tool, but also to advanced automation, animation, video and audio editing functionalities, as well as premium stock libraries and design templates.
No onboarding necessary

Enable seamless collaboration between everyone on the creative team— including designers, marketers, and content creators with a tool that is easy to learn and use. No onboarding is necessary, just set up an account and start creating.
Flexible pricing model

Experience a per-seat pricing plan that enables you to scale as you grow. Try before you buy using the 7 day free trial for any of the premium plans. Speed up the decision making process by having all stakeholders involved in your project as Viewers.
Premium stock content

Have all the stock content you need right in your workspace, all included in your plan—no extra cost required. Browse through millions of high-quality photos, explore the all encompassing video library or enhance your ads with tunes and sound effects.
Powerful animation

Launch high engagement content in no time with the intuitive animation tools in Creatopy. Use the Magic Animator tool for super quick results, or take the process one step further and experience limitless customization using the Timeline feature.
Video editor

Boost views and engage with audiences using video ads. Experience the most intuitive video editing interface, which simplifies your ad creation process and allows you to quickly reach your target audience in a more engaging way.
Seamless collaboration

Simplify your design workflow by bringing everyone together in one single design tool. Share your work with specific individuals, your team, or people outside your organization with just one click. Give and receive feedback quickly.

explore the Ad Feed Builder
Scale your creative production
The Ad Feed Builder helps you automate your design process and generate a large volume of visual variations for your ads, so you don't have to waste your time with monotonous tasks.