premium features
Why use Creatopy's stock audio library
We have created products and services to help you stay relevant on any advertising platform. By using background music, you'll make sure you deliver impactful designs for your business.
Rich media ads
You are now one step closer to creating rich media ads, including videos. Add music to your image to evoke emotions, and take your creatives to a whole new level.
One platform for all your needs
We offer you access to premium songs under one single platform. No need to outsource your music. No need for additional steps like file downloading and uploading.
Unlimited use
If you are under one of our paid plans, there isn't a limit on how many audio tracks you can use during your subscription. Use as many as you need.
Expanded reach
Enter new territories through video and audio content on the most popular social media platforms. Reach your target audience everywhere and every time.
Deep customization
Add audio to images reflecting your own touch and style. Cut and trim your tune, adjust the volume, and do everything you need until it fits your design's purpose.
advanced filters
Search and filter tunes at speed
Creatopy's advanced search enables you to discover the audio tracks you need in just a few clicks. Creatopy will scour the music database in seconds, allowing you to add music to a picture in a flash.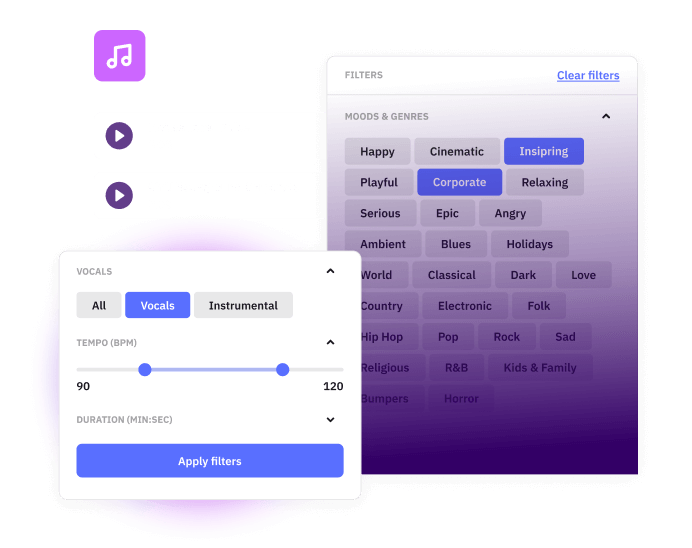 Get started
We spent $6,797 on a brand awareness campaign
Digital advertising is a fast-paced industry. Experimenting is essential for any advertiser since it can help you notice patterns and sequences that you might otherwise miss. Download our latest case study, which compares YouTube audio ads to video ads, and optimize your ad strategy!
do it yourself
How to add music to a picture
Access Creatopy's audio library

After you finished creating your design in Creatopy, go to the Elements library, from the left-side menu and click on Audio Tracks.

Search your preferred tune

Once you land in the music library, you'll see a dedicated search area. Feel free to experiment with various search terms to find the tune that is the most representative for your business.

Filter audio tracks

To find the right track, you can use our advanced filtering system. Sort results by mood, genre, duration, vocals, and tempo. Try different combinations and see how results vary. Once you see something you like, preview the track by clicking the play button.

Add the audio track to your picture

Drag & drop your preferred tune to your design. You can trim any audio file, switch up your track, and adjust the audio levels, in case your design needs a change of tempo and rhythm.

Download

Once you are happy with how everything sounds, download your design. Bear in mind that audio tracks will work on MP4, AMP, and HTML5 export. It's that easy to add music to a picture!

add audio to your design
Design to the beat of your rhythm
Creatopy empowers anyone to customize designs through sounds and effects without having to use complicated software. Ready to strike the right notes and elevate your business?