Create faster ads using AMPHTML
Deliver fast-loading and safer advertising experiences through AMPHTML ads. Work alongside your team in Creatopy to build personalized ads using the AMPHTML technology, no coding skills required. Rapidly create download and publish your AMPHTML ads on the networks of your choice.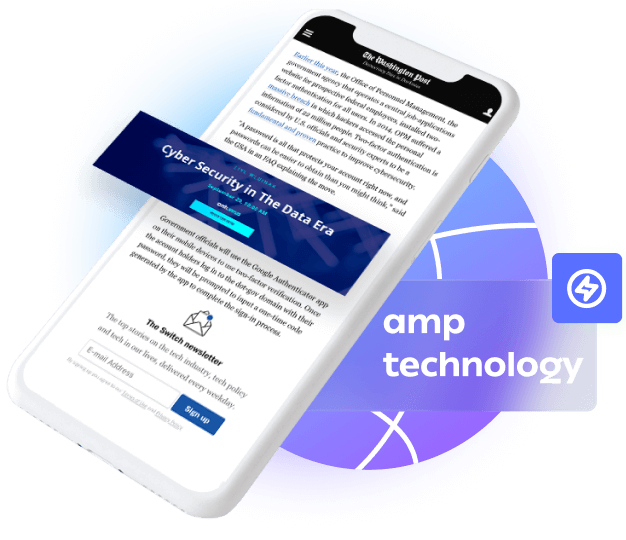 Customizable AMPHTML ad templates
Simplify the ad creation process by starting off with one of many professionally designed templates available for AMPHTML ads. Find a good fit and customize the design with high-quality stock photos, illustrations, icons and other creative elements that show off your brand identity. Include AMPHTML banners in your display ads campaign using a code-free and budget-friendly method.
How to make accelerated mobile pages ads
Choose a template

Browse our extensive library and pick a template that fits your needs. Alternatively, design your AMPHTML ads from blank using a predefined banner size.

Customize your design

Edit your AMP compatible ads down to the last pixel. Change elements like imagery, colors or fonts, and add subtle movements with the Magic Animator.

Generate multiple sizes

Instantly resize your design in various sizes with Creatopy's resize tool. Edit all banners at once to prepare an entire digital display advertising campaign.

Export your AMPHTML ads

When you're done editing, download the designs in the AMP format which allows you to run your ads on all web pages, not just AMP pages. I like having our team members all in one space where we can collaborate on creative assets. It's nice we can import our own brand assets into the platform.
Eric Jackson-Sarkany, Demand Generation Strategist - D2L Design sets can save you time, while batch creation via CSV is very interesting. It's fast to design ads and post on social media. It integrates partners like Shutterstock.
Vincent Maurin, Co-founder - Panja.io The ability to create banners in different formats in the blink of an eye by changing the resolution and repositioning objects is extraordinary. Available templates are modern.
Giorgio Russo - Byte Project
Previous
Next
All in one AMPHTML banner maker
Experience cost effective AMP ad making in a collaborative environment fueled by automation features. Automate repetitive tasks like resizing, while maintaining full control over the creative aspects.
Predefined ad sizes
Always get your dimensions right thanks to our constantly updated display ad sizes library. Leave the technical specs to us and concentrate on customizing your designs.
Brand alignment
Maintain consistency on all AMPHTML banners by uploading your assets into a brand kit that anyone from your team can access when designing in Creatopy.
Quick animations
Go from idea to animated banners in a matter of minutes with the Magic Animator feature. Pick one of 11 presets and then tailor the delay and duration of the elements.
AMP export format
Set the image quality you want when downloading your ads. Choose from a range of options, which includes low to high, and even custom settings.
Design generator
Multiply a design on various presets or custom-made sizes with a single click. Edit and customize all versions simoultaneously in our intuitive AMPHTML banner maker.
Ad serving
Publish accelerated mobile pages ads of any size without leaving the platform using an ad tag. Update your live ads in real-time and track their performance to see if further adjustements need to be made.
Elevate your ad game
Aim for higher viewability and increased performance with AMPHTML ads. Use Creatopy's AMPHTML banner maker to get your campaigns up and running faster and give your audience what they want—great user experiences.