connect better, sell more
Redefine your retail creatives
Connect with customers through personalized retail ads that feature your best-selling goods or services. Design at scale and accelerate campaign execution so you can give your potential customers multiple options and differentiate yourself from the competition.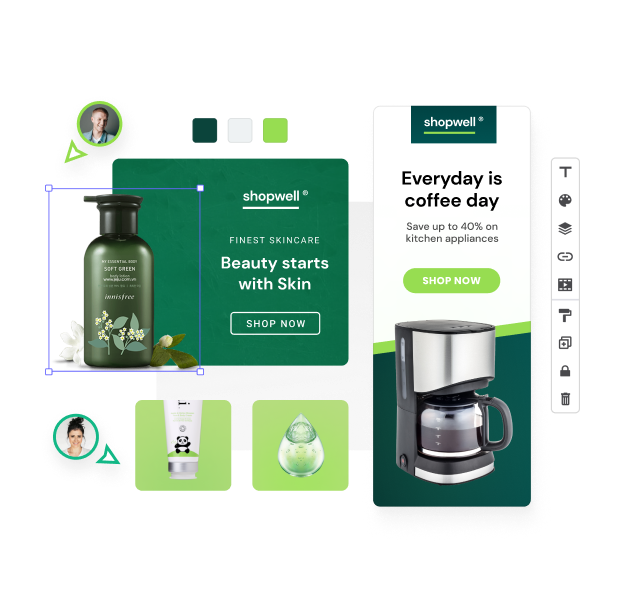 There are times when we do live designs, where the team comes together and we do a screen-share session to create a design with real-time input. This has given us the power of 5 designers with just one staff actually working on it.
Harry Sekhon, Marketing Chief - Sorted
time efficient ad design
Larger creative volume
Spend less time making ads and more time growing your retail business. Simply set reference layouts for each type of orientation and the Smart Resize tool will resize your design up to 60+ different preset sizes.

Serve product information through data feeds to create numerous on-brand designs on the spot and launch campaigns at a faster pace. Carry out A/B tests to see how different messaging or imagery resonate with potential customers.
features
Explore the benefits
Automation made easy
Cut the repetitive work and avoid human error when scaling on multiple sizes by letting our intuitive design automation tools take care of all the resizing and versioning.
Brand consistent ad design
Achieve and maintain brand consistency throughout the whole creative process. Have all your brand elements organized in a Brand Kit and ready to use right in your workspace.
Engage more with animated designs
Create animated visuals with smooth HTML5 transitions. Choose from a wide array of animation presets and bring your designs to life with just one click.
Real-time campaign updates
With the help of Ad Serving, make live updates to your ads without putting a whole campaign on hold.
Next level personalization
Create hyper-relevant campaigns and connect with specific viewers by using a wide range of creative variations.
increase your ROI
Boost performance with the help of Ad Serving
Streamline your creative workflow and increase your ROI with real-time campaign updates. Automatically sync your data feed with your ad designs for up-to-date campaigns.
Start with templates
Start from a ready-made template
or build your own
from our blog
Retail inspiration
Retail advertising
Retail advertising needs to be part of the marketing mix. This is going to help you expand your reach, drive more (foot) traffic, and convert visitors into customers.
Consumer trends 2022
1,139 U.S. consumer shoppers told us about their purchasing habits. Based on their responses, we identified ten trends worth keeping an eye on in the next year.
Build brand loyalty
Learn the basics of brand loyalty in marketing and strategies for building brand loyalty. Bonus: examples of companies that understood the importance of brand equity and brand loyalty.
Provide flexible shopping options
Stay in control of ad production
Increase your productivity, while keeping ad making in-house with Creatopy. Create pixel-perfect ads and give customers the flexibility to choose between countless products.