Creative optimization
Make your ad creatives perform at the highest standard. Find a variety of testing and campaign analytics tools, make informed decisions and tweak your ads in real-time for increased performance.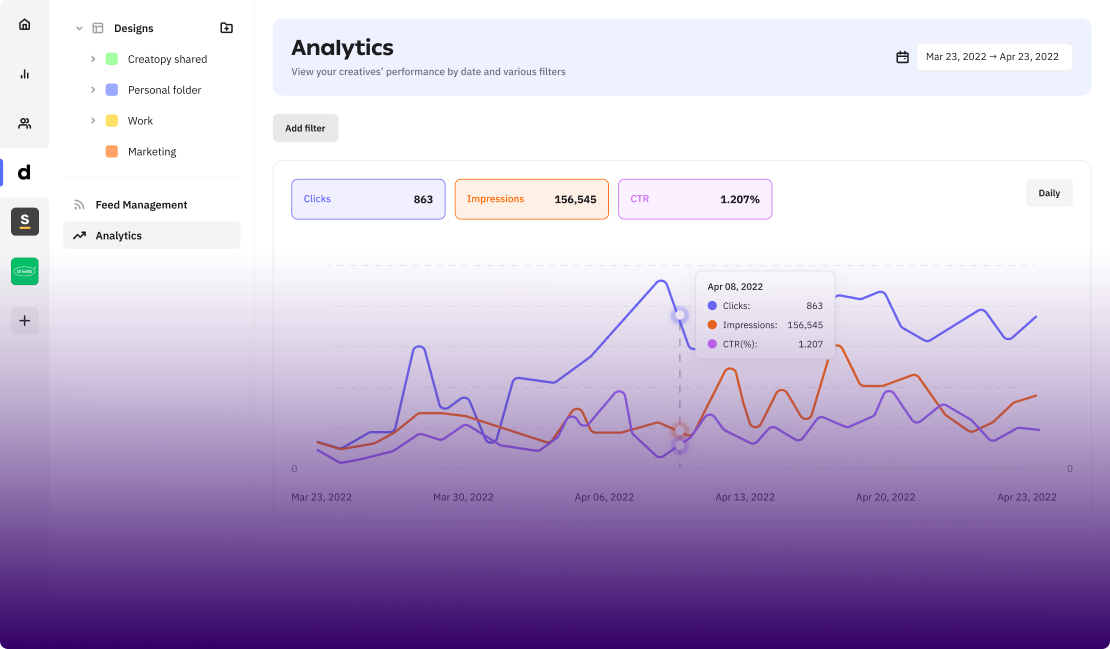 Highlights
Optimized creatives, high-performing campaigns
Reaping the benefits of creative optimization starts from day one of your ad campaign.
Reporting & analytics
Get accurate ad performance data: track clicks, impressions, and other essential metrics. Compile reports and share them with your stakeholders for informed decisions.
Testing tools
Run A/B tests easier by generating ad tags for your designs that you can import to your preferred ad network. Bypass the extra steps of downloading and reuploading the creatives.
Agile banner optimization
Optimize your live ads in real-time by simply updating your data feed. You have complete control, even when things are unpredictable, and you have to react fast.
A/B testing for optimized campaigns
Launch winning ad campaigns with Creatopy. Find out which are the best-performing creatives before going live with your ad campaign, make data-driven decisions with detailed analytics, and iterate for the best results.
A single place for
your data

Having scattered data when needing to measure the performance of an ad campaign can become a challenge for marketers and designers. Gather your data from multiple advertising platforms in one place and save hours of manual work.
Visual representation of ad performance data
Easily create visual dashboards to monitor the performance of your ads. With a visual representation at your fingertips, it's quicker and simpler to identify the most important trends and patterns in your data.
Easy to use
reporting tools

You don't have to be a data analyst expert to compile the reports and dashboards you need to assess the performance of your ad creatives. See the bigger picture with just a click. Anyone on the team can do it. The ad serving feature allows in one click to generate a third-party tag which can be used on our DV360 campaign creatives set-up. We can also update the creatives once the campaign is live if needed, also in one click.
Yves-Alain Schwaar, CEO, Brandfinity
features
See what else you can do in Creatopy
Deliver ads that speak your audience's language and find the tools that help you iterate and improve your ad campaign.
Ad serving across platforms
Benefit from integrations with ad networks and DSPs that will help you distribute your ads to all those channels that make your business grow.
Automation tools
Create ads at scale with the help of automation. Make ads in high volumes, different sizes, and variations while ensuring you always deliver on time.
Collaboration
Enjoy a range of tools that help you collaborate with ease. Optimize your ads by considering the feedback from your colleagues or external collaborators.
make a start
Increase your ad campaign performance
It only takes a few minutes to find out how you can make the most of creative optimization to enhance your advertising strategy.