highlights
Features that make adding music to videos easier
Streamline your rich ads production with Creatopy. Discover an intuitive editor that anyone can use to add audio to video and bring your team on board to enjoy seamless collaboration during the design process.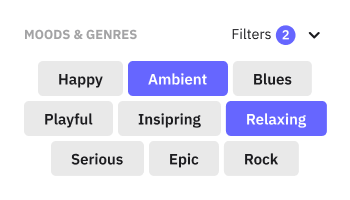 Well-organized library
Navigate the genre and mood categories looking for a suitable song, or give the search and filtering system a try to save more time.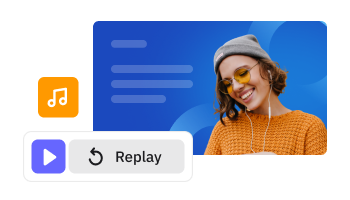 Audio preview and playback
Sync the music with your video using the preview function. Playback the track after adding it to the creative and make adjustments.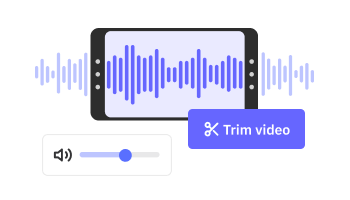 Effortless audio editing
Fine-tune your audio to go with the visuals perfectly. Trim the track to change its duration and raise or lower the volume as you see fit.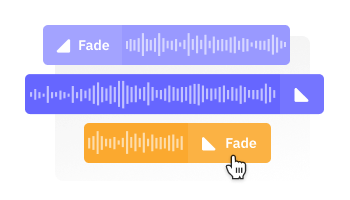 Smooth fade effects
Make transitions appear seamless by adding a fade effect at the beginning or at the end of the sound you use for each video sequence.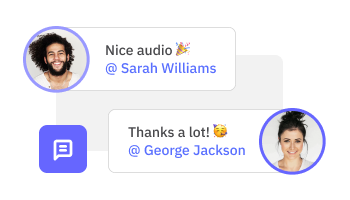 Instant collaboration
Let team members or stakeholders weigh in on the music selection process. Send share links and get feedback through real-time comments.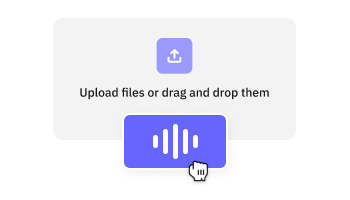 Quick music upload
Need to use your branded music to maintain consistency? Creatopy allows you to upload your own audio files in just a few seconds.
Tune in for better ad performance
Combining audio and visual elements can boost ad recall by 90%. In addition to this, advertising music has the power to:

Evoke strong emotions
Use music to elicit an emotional response from your audience and create positive associations with your brands or products.

Increase engagement
Elevate your storytelling through sound. Gradually increase or decrease music intensity to keep viewers hooked throughout the entire video.

Improve brand recognition
Help your audience establish a sense of familiarity with the brand. Align your visual identity with the audio for a cohesive and memorable message.
Navigate music selection effortlessly
Music can make or break your ad. Creatopy's audio library makes it easy for you to hit the right notes:

A broad selection of genres
Have your pick of well-known music genres, including pop, hip-hop, rock, and many others. Just stay true to your brand's personality.

Mood-specific music choices
You know precisely which songs convey specific moods or feelings as they're labeled accordingly as happy, sad, playful, and so on.

Granular filtering options
Browsing the list of songs is simple. You can filter by tempo, duration, and whether they include vocals or just the instrumental. I like having our team members all in one space where we can collaborate on creative assets. It's nice we can import our own brand assets into the platform.
Eric Jackson-Sarkany, Demand Generation Strategist - D2L Design sets can save you time, while batch creation via CSV is very interesting. It's fast to design ads and post on social media. It integrates partners like Shutterstock.
Vincent Maurin, Co-founder - Panja.io The ability to create banners in different formats in the blink of an eye by changing the resolution and repositioning objects is extraordinary. Available templates are modern.
Giorgio Russo - Byte Project
Previous
Next
How to add music to a video in Creatopy
Access the audio library

Go to the Elements library by using the left-side menu, then click on Audio Tracks to open up Creatopy's extensive collection of premium music.

Find your track

Use search terms to explore the stock library and find audio that complements your video. When you come across a tune you might like, press play to listen to it.

Adjust for a seamless fit

Drag and drop the audio file onto your design. Trim the length, adjust the volume as needed, or switch it up with a different track for a better match.

Download your creative

Once you're satisfied with the result, choose a sound-compatible export format like MP4, AMP, or HTML5 to download your ready-to-publish ad rapidly.
FAQs
How can I add music to a video for free?
Creatopy has a 7-day trial period during which you can add music to a video for free. If you opt for a paid subscription after this period, you only pay for the tool subscription—the audio tracks you use come at no extra costs.
How do I add audio from a voice recording to a video?
Upload your previously recorded audio file to Creatopy by going to My Uploads from the left-side menu and clicking on Upload file(s) or simply dragging and dropping your files onto the workspace. Then simply use the audio editing tools to sync it with your video.
What video and audio file formats is Creatopy compatible with?
Creatopy allows WAV, MP3, and OGG audio file upload. But you must keep the file size under 10MB.
As for export file formats that support audio, you can take your pick from MP4, AMP, and HTML5.
What video and audio file formats is Creatopy compatible with?
Creatopy allows WAV, MP3, and OGG audio file upload. But you must keep the file size under 10MB.
As for export file formats that support audio, you can take your pick from MP4, AMP, and HTML5.
get started
Reap the benefits of adding music to video
Blend music and video together to strike a chord with your audience. Experiment with Creatopy's online editor and see if it's a good fit for you and your team.